Archive for March, 2010
Thursday, March 4th, 2010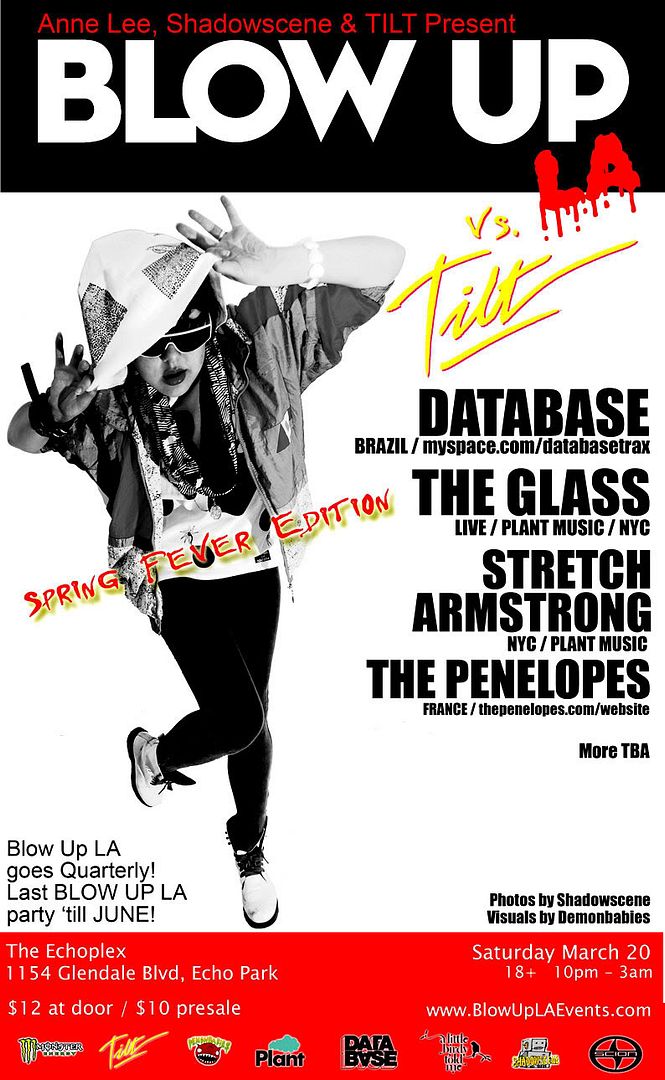 So new news first! BLOW UP LA is going quarterly - we are growing up and are taking things seriously. So this quarter, Spring fever, next quarter, BLOW UP Summer Smash!
Yes that means this March 20 is the last Blow Up until June.
This March 20, Blow UP is going so international it is ridiculous. We are teaming up with Tilt to bring:
From Sao Paulo, Brazil, the producer/remixer duo Database is presenting LA the opportunity to hear some exciting South American squelchy acid bass electro remixes and original jams. I've never had so much fun managing data. Listen to some of their remixes and original tracks
Then from NYC/Berlin, The Glass will be performing LIVE - yep! remember BANDS? you know those people who play INSTRUMENTS and SING? That is the situation we are dealing with ladies and gentlemen. The Glass write some pretty awesome musics and have SEXY Irish accents.
Legendary New York DJ Stretch Armstrong, who is responsible for introducing you to more hip hop than you could ever even begin to imagine. I mean read this bio ridiculous right?
SO last but not lease - from France we have the Penelope[s]. Displaying a wide range of sounds, everything from an amazing cover of Beastie Boys' Sabotage to some more chill out vibes of their Lala land single. Check it out here!
So it would be good to give a bit of a recap, because I know you probably didn't read any of that anyway and love BULLET POINTS:
BLOW UP LA is on March 20
at 10:00 PM with
Database (Brazil)
The Glass (NYC)
Stretch Armstrong (NYC)
The Penelope(s) (Paris)
At the Echoplex
18+
$12 at the door
Well that was a lot of fun. Next Blow UP I think we might try a POWERPOINT presentation.